1928
The All New Oldsmobile for 1928- By Rohan Russell
In the early 1920's Oldsmobile exited a period of vigorous marketing of numerous models and body styles spaning the middle class family bracket. In the late teen's the auto industry reached its first saturation point, this along with World War 1 resulted in many manufacturers hitting a financial brick wall after earlier over-capitalizing their plants to meet what would later prove to be a spike in the vehicle sales graph brought about when cars were made available at relatively low cost in a period of very rapid growth and change around the World.
During the Teens Olds had simultaneously offered a range of vehicles powered by 4, 6 & 8 cylinder engines. This brought with it very high tooling set up costs and although Olds shared some of these engines with its sister GM division in Chevrolet - both of who out-sourced the engines via the Northway Engine Co. there still remained the high costs of offering the various chassis designs required for the 3 engines.
With recognition of the need to minimize their exposure during this dangerous period and to provide for an unknown period of commitment to war efforts Olds moved to develop a plan based on offering just one six cylinder model. The "Series 3O" as it would be called ran from July 1923 through October 1927, in primarily 5 progressively improved variants across this period in versions A through E.
Completed 1928 bodies in the final inspection area at Holden's Woodville plant.
By 1927 the US domestic market and various export markets had improved (particularly Australia). With the huge success of the 30 series, Olds decided that market conditions had recovered to a point where a model per year could be made viable. Joining Oldsmobile in 1925 after some time at Packard & Rickenbacker, newly appointed Chief Engine Designer - Charles McCuen recognised the importance of improving on the 30 series engine to develop a far more rugged and durable engine. Long skirt cast iron pistons, chain drive camshaft, improved crankshaft bearing design, cam-driven oil pump and the replacement of the vacuum feed fuel system with an engine driven pump became the fundamental improvements that delivered McCuen's primary goals for the new model that would be released in 1928.
Designated the model code F.28 , Oldsmobile released its new model for 1928 on December 21st 1927. Sporting a total new appearance along with a new engine and refined transmission, diff and brake arrangement, this new car would largely be used as a base model that would be refined over a further 2 years for 1929 and 1930.
In Australia just two years earlier, General Motors Australia had completed the deal for Adelaide body builder - Holden's to exclusively manufacture body assemblies for GM cars in Australia. This was brought about by the high import duty that the Australian government had imposed to develop a local manufacturing industry here in Australia. As a result, GM-A used Holdens for the manufacture of the greater majority (95%) of Tourer and 2 Door Sedan (Coach) Bodies. Some imported Fisher / Oldsmobile bodied Tourer's and Coach's were sold here and with the very low volume of Roadster and 4 door Sedan bodies its was clearly more cost effective to import these bodies from the US.

The 1928 Fisher bodied Sport Roadster
As indicated, the Australian market was offered four base versions only by GM-A, these being the Tourer, Roadster, 2 Door Sedan and 4 Door Sedan. Prices ran as follows - Tourer £330 Sports Roadster £390 2 Door Sedan £390 4 Door Sedan £450. Regrettably the uncertantity over production records from the Holden Body plants during this period make it very difficult to have any faith in the existing records. Whilst they do indicate 1117 Tourer bodies and 168 2-Door Sedan bodies being built in the calendar year of 1928, its certainly possible that these numbers could cover run-out 1927 models or early production of 1929 models.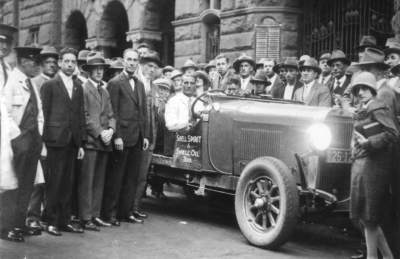 As in previous years, Oldsmobiles were entered in various record attempts in Australia.
Back home in the United States Olds offered additional body styles in the Standard Coupe, Sport Coupe and Landau Sedan. Also made available to the US market were upgraded models across the complete range. Marketed as "Deluxe models" these cars came with 6 wire wheels, bumper bars on front and rear, luggage rack and chrome plated headlight assemblies.
With the new 1928 model, Olds opted to discontinue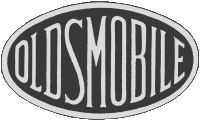 its emblem that was first introduced on the early Curved Dash models along with the Script based name that ran up to 1927. A new mono coloured oval shaped badge with the simple lettering "Oldsmobile" was adopted for 1928. The new oval shaped insignia was used on the radiator surround badge, hubcaps and some spare wheel covers. The radiator badge is one of the unique features distinguishing this year model from later models of 1929 and 1930, which used a round badge featuring the Oldsmobile shield that ran up into the late 1940's.
Whilst exact details of colour scheme details for locally built bodies are as yet unconfirmed, US manufactured bodies were as follows
Body Style

Upper Body & Lower Cowl

Lower Hood

Wind Split on Cowl & Hood

Upper Structure / Window reveals

Belt Panel

Moulding

Striping

Roadster

Locust Cream

Locust Cream

Black

Black

Orinoco Cream

Black

Instrument panel, Fenders, Aprons and Tie Bar - Black Colour

Tourer (1)

Sahara Gray

Black

Sumach Red

Black

Sahara Gray

Instrument panel - Black Colour

Tourer (2)

Dagestan Blue

Dagestan Blue

Black

Black

Bogwood Tan

Black

Cream Medium

Instrument panel - Dagestan Blue, Fenders, Apron & Tie Bar - Black Colour

2- Door Sedan (Std)

Black

Black

Black

Black

Dagestan Blue

Black

Mongol Gold

Instrument panel - London Smoke Fenders, Apron & Tie Bar - Black Colour

2 - Door Sedan (Opt)

Standish Green

Standish Green

Mint Green

Standish Green-------

------Mint Green

Standish Green

Mint Green

Light Cream

Instrument panel - London Smoke Fenders, Apron & Tie Bar - Black Colour

4 - Door Sedan

Algerian Blue

Algerian Blue

Black

Algerian Blue----------------Black-------------

Algerian Blue

Black

Luxerite Gold Bronze

Instrument panel - Algerian Blue Fenders, Aprons & Tie Bar - Black Colour
Sales literature in Australia for 1928 included both a large and small Full Line Folder, Features Folder and a Price List detailing all models. Oldsmobile introduced their first "shop manual" for the 30 series titled "Standardized Maintenance & Repair Procedure - Service Promotion Manual Number Seven", the release of a manual under the same title for 1928 proved to be a far more concise book. This particular manual came in loose-leaf form and various supplements were added each year through 1930. In 1929 Olds in the US released a semi illustrated parts book covering F.28 & F.29 models of which a special run for Australia with GM-A on the covers are still infrequently seen for sale around swap meets.
Today 1928 F.28 Oldsmobiles remain a very popular model by many restorers around the country with many fine examples owned and driven by our membership.