Oldsmobiles Highly Popular "Model 30.E" - 1926/27 By Rohan Russell
The "Roaring 20's" was certainly a very strong period in the history of Oldsmobile in Australia. The release of the "30" Series which spanned the period July 1923 through October 1927 was a very popular period, and today retains a very strong interest for restorers here.
There were primarily 5 versions of the 30 Series running from the 30.A to the 30.E. The 30.E commenced production on June 23rd 1926 , and the last car rolled off the production line on October 31st 1927. During this period, Olds made a number of significant changes to enhance reliability and performance that earlier models lacked, whilst also enhancing looks with the first use of chrome plating and two tone paint schemes that would be a prelude to the 1928 models.
The model "E" resulted in numerous mechanical changes for Olds. For the first time in the "30 series", engineers modified the bore and stoke of the engine from its original configuration in model A thru D cars of 2¾" bore and 4¾" stroke, to gain just short of an extra 15 cubic inches from its new configuration - 2 7/8" bore and 3¾" stroke. The nett result being an additional 1.7 horsepower.
Probably the most significant change that Olds would make, actually took place mid way through production of the 30.E. Primarily the change was from 2 rear wheel brakes to 4 wheel brakes. This change commenced in early January of 1927 and obviously became a focal point for the marketing and sales team to base most advertising upon - particularly given that no extra charge was imposed on the price. The change was just one of many that Olds had been working toward to improve overall driveability and safety. Earlier "E Series" cars of 1926 saw a change in wheel design from 5 to 4 studs plus a reduction in wheel size from 21 to 20 inch. but various other changes took place part way though the model run and include-:
Introduction of an oval shaped combination stop & tail lamp for 4 WB cars over the earlier round lamp used on A thru E series with 2 wheel brakes.
2 wheel brake cars (1926) used Carter carburettors where as 4 wheel brake models (1927) used Johnson carburettors.
In mid '27 Australian Holden bodied Tourer's received the twin body moulding lines that US built Fisher & Olds bodies received when the 30.E was first released back in June '26 in the US.
Early 1927 -
Front windscreens moved from 2 piece to single piece.
Headlights were repositioned lower on to a larger support bar
30.E's built towards the very end of the model
utilised a gearbox that was based upon the next years model F.28.
used proper engine mounts for the first time - rather than engine mounted into the chassis.
General Motors - Australia marketed five models here - the Tourer (£295), Deluxe Tourer (£325), Sports Roadster (£325), Two Door Coach (£385) and Four Door Sedan (£440). Tourer's and most Two Door Sedan models were put together from fully imported assembled chassis's that arrived from the US with front sheet-metal that was coupled together in Australia with bodies built here at the Holden Body plant in Adelaide. But due to the very low numbers of Roadsters and 4 Door Sedans sold here, these models were fully imported from the US with Fisher and Oldsmobile bodies.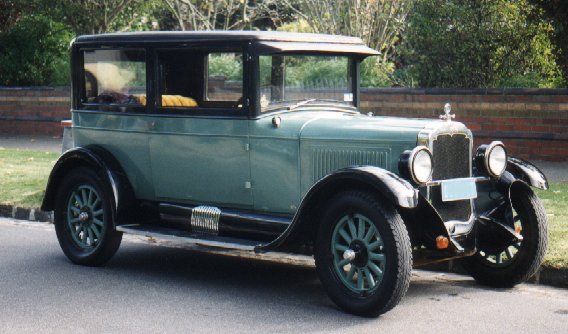 1927 30.E Coach

Back home in the US Oldsmobile offered additional body styles in the Coupe and Landau Sedan, but in virtually every body style Sports or Deluxe models were available. These optioned up models included accessories like bumpers front & rear, disc wheels (or wire wheels at additional cost), "Dogbone" radiator cap and motometer, spot light, wind wings, chrome plated kick plates with Olds script.

Series 30.E Body Colour Schemes

(from US Olds Technical Specs of 1927)
Body

Wheels

Body Style

Lower Body Cowl & Hood

Upper Structure & Reveals

Moulding

Striping

Wood

Disc

Roadster

Black Maple Gray

Monogram Panel: Matador Orange

Lower: Black Maple Gray

None

Natural wood

Matador Orange & Black Striping

Headlamps, Fenders & Aprons - Black Maple Gray

Tourer

Option 1.

St. James Gray

Door Panel: Navy Gray

Huntington Green

2 Ivory stripes on moulding

Natural wood

St James Gray & Ivory Striping

Option 2.

Huntington Green

Canoe Brook Green

Black

2 Ivory stripes on moulding

Natural wood

Huntington Green with Ivory Striping

Option 3.

Safari Blue

Door Panel: Cream

Safari Blue

2 Ivory stripes on moulding

Natural wood

Safari Blue with Ivory Striping

Coach

Huntington Green

Black

Black

Gold

Huntington Green with Gold Striping

4 Door Sedan

Ridge Blue

Ridge Blue

Ridge Blue

2 Gold stripes

Ridge Blue with Gold Stripes

Ridge Blue with Gold Stripes
Like most General Motors-Australia records of the period, the exact number of vehicles manufactured/ assembled here is questionable. This is due to the only remaining records being based upon calendar year - not model year production. However GM-A records reflect the following deliveries from the Woodville plant in South Australia for 1927.
Coach - 237, Tourer - 114, Sports Roadster - 114, Sedan - Nil. Confusing when we know beyond any doubt that both Sedan and Roadsters were fully imported.
The only engine number records for this period come from Oldsmobile records, and are not solely isolated to Australian deliveries. They do however cover right hand drive models and not domestic US production. From collated data of existing vehicles in the country, these numbers appear to be quite precise.
Whilst exact details of colour scheme details for locally built bodies are as yet unconfirmed, US manufactured bodies were as follows
2 Wheel Brake (pre 1927 production) from ER 1 to ER 1329
4 Wheel Brake (1927 production) from ER 1330 to ER 5059
General Motors-Australia released little in the way of sales promotional literature for the 30.E period, but did release a large full line folder and a separate brochure on the Sports Roadster both of these are very scarce today. Of a more technical nature, "Service Promotion Manual Number 7" released by Olds in the US was the first Shop Manual that Olds released and actually covered the 30 series from A thru E. A few different US printed owners manuals were released for issue here and numerous sales catalogues on every body style were printed in the US for their domestic use.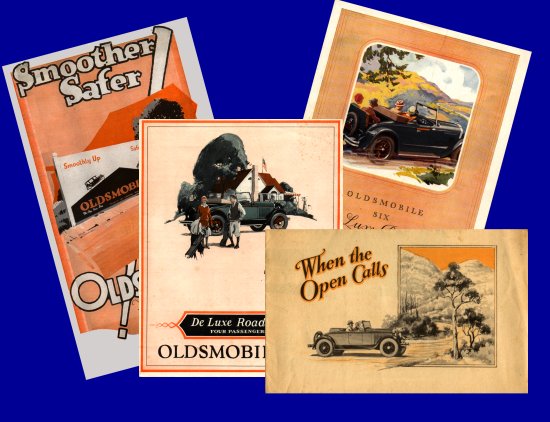 Today many excellent examples of the model 30.E remain and are strongly represented in our club across all body styles.