1934
From Bust and Back- By Rohan Russell
Oldsmobile's Re-Immergence of 1934
The impact of the "Great Depression" of 1929-30 had a devastating economic and social impact on societies around the world. In Australia, industry generally stalled for 4 years whilst the effects on the economy was still obvious well into the mid-1930's. By 1930, Holden Motor Body Builders Ltd - the sole local body builder for General Motors Australia realised that they had overcapitalised their recently completed new plant at Woodville South Australia. The plant was designed for high volumes of the roaring 20's and it actually built as many as 47,000 bodies in 1927 for GM and other auto companies, but by 1931 just 1651 bodies came off the line. As the Australian Government imposed restrictions on companies from taking cash off shore following the Wall Street stock market crash, it obviously made sense for GM to use its position to acquire the failing Holden Body operation
The merged company now called General Motors - Holdens Ltd rationalised the number of makes on offer during the period 1930 through 1933 and the availability of Oldsmobiles ceased with the 1929 F.29 series. Then late in 1933 it became apparent that the volume of new vehicle sales necessitated the re-introduction of the Olds and Melbourne's primary Olds and Cadillac Dealer - John Rhodes of Rhodes Motors travelled to Detroit and Lansing to lobby for an initial quota of chassis's for F.34 series models.

Returning to Australia with a positive result, John Rhodes brought with him an F.34 chassis and front sheet metal upon which he had "Ruskin Motor Bodies" build a fastback shaped aluminium 4-door sedan body, which he named the "Monterey". The Monterey was Mr Rhodes personal car and was used to test the interest of Australian motorists in securing preliminary orders prior to the arrival of chassis's from the US.
1934 F.34 Roadster (Holden body)
To meet the needs of the relatively rough and demanding roads in Australia, GM-H did not offer the heavier L.34 series with in-line 8 cylinder engine that had been available in the U.S. since 1932. Instead they opted for the simpler F.34 series - powered by a 213ci six cylinder side valve engine. All Australian models did however come standard with dual side-mounted spare wheels, which were a relatively expensive option in the USA . Olds had also released this year independent front suspension, hydraulic brakes and syncromesh manual transmission which became a strong selling point here in Australia.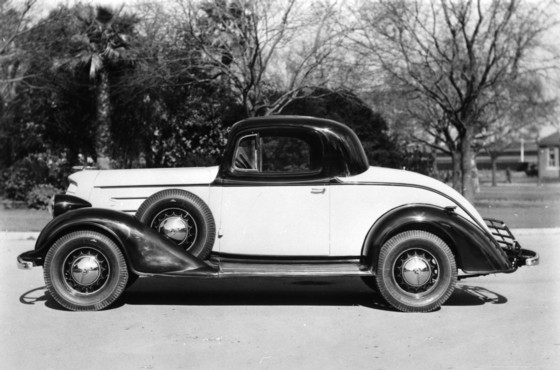 1934 F.34 Coupe (Holden body)
At the launch of the Olds range in July 1934, GM-H offered 4 body styles. Olds shared most of these bodies with Buick and Pontiac model's, so as to make the relatively small production volumes viable. On offer were the Sedan priced at £425, Coupe at £410, Tourer at £380 and Roadster at £365 all exclusive of tax and on road costs. Whilst the 4 Door Sedan and Coupe bodies were very similar in appearance to their American "Fisher Bodied" brothers, the Roadster and Tourer were unique to Australia.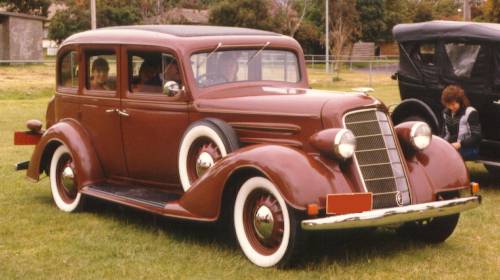 1934 F.34 Sedan (Holden body)
The Roadster took on a similar appearance to the "Fisher" built Convertible, but it did not have the solid front windshield or wind-up side windows that the Convertible used. The Tourer similarly used a folding windshield and side curtains rather than wind-up side windows that American built Buick, Cadillac & Packard Phaetons of the same period used.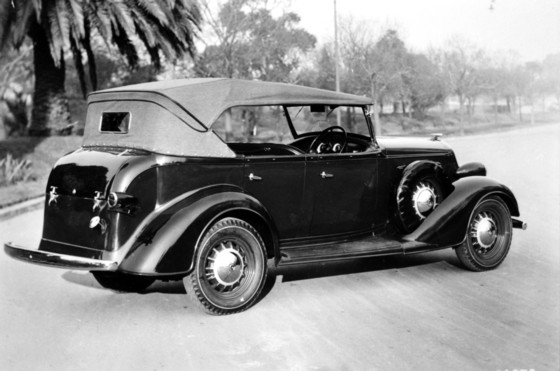 1934 F.34 Tourer (Holden body)
Right Hand Drive models sold here and in various other countries were clearly an after thought for Olds engineers in Lansing. The clutch mechanism used a series of linkages to re-route the pedal from the left to right side, whilst the glove compartment door fouled on the steering column when opened. This was due to poor symmetry of the dash, which did not accommodate conversion from right to left sides that later year models provided for. The '34 Olds, like most vehicles had its design problems. In particular its tendency to develop cracks in the pressed steel chassis around the rear spring hangers and front cross members was initially a major obstacle that GM-H engineers need to address in a car that was not of the best design for our rough and demanding roads.
Given the relatively short period since the depression, few new cars buyers had the extra ready cash to purchase optional accessories. Consequently the very restricted accessory list comprised of just -
· Pressed metal wheel covers finished in the cars body colour for side mounted spare wheels - note: vinyl elasticised wheel tread covers were provided at no charge but these covers with their less than stylish appearance were not designed for any reasonable longevity.
· Luggage Sets specially designed to accommodate the small boot/ trunk compartments of Sedan and Tourer models.
· The first factory approved Car Radio. The "Air Chief" car radio selling for a mammoth £27 was a 2 piece unit comprising the main control unit (incorporating speaker) which mounted on the firewall panel under the dashboard. Connected to this was a cable driven control panel that was centrally mounted on the bottom of the dash panel.
Considering the tough economic period of the time, it was surprising that GM-H saw value in the various different catalogues and manuals that they made available to prospective buyers, dealers and mechanics alike. These included a salesman's facts book, at least 4 various sales catalogues and an owner's manual which were all printed in Australia, along with the US printed workshop manual.
Good examples of these vehicles remain in existence today with many of them owned by our membership.
<