1936
Oldsmobile Releases A Very Different Model By Rohan Russell
On Jan 1st, 1936 GM-H released the new Oldsmobile range and it was obvious that GM-H was still conscious of continued tough economic conditions from the depression period. This year open cars like the Roadster & Tourer were cut - leaving only the Sloper (All Enclosed Coupe) and Four Door Sedan available on both 6 & 8 cylinder chassis. However as the nation was riding on the back of an economy with a strong farming base, an obvious opportunity to provide light / medium capacity commercial trucks to service these needs was quickly recognised. This was timely, as the GM Export Dept in Detroit had been working on a range of Oldsmobile Trucks that were powered by a similar version of the Olds 6 cylinder car engine and was coupled to a 4 speed manual transmission. Olds shared much of its truck styling with sister GM Trucks - both GMC and Chevrolet truck bodies were near identical in styling from 1936 through 1939.
Olds had previously been in the truck market back in the early '20s with its 4 cylinder "Economy Trucks" but in 1936 General Motors surprisingly opted only to export Olds trucks and not to complicate the local US market that had a strong affinity to GMC trucks. Consequently Olds trucks were exported to countries like Australia, New Zealand, Germany and the United Kingdom.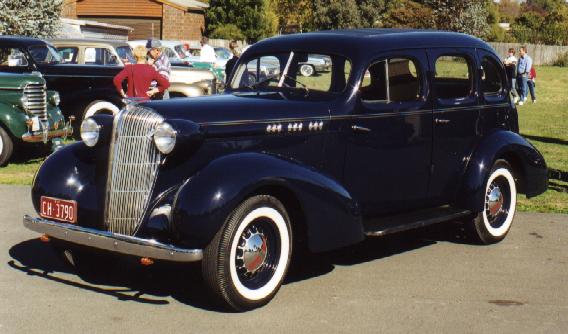 Trucks were made available in two different capacities - 1½ and 2½ ton.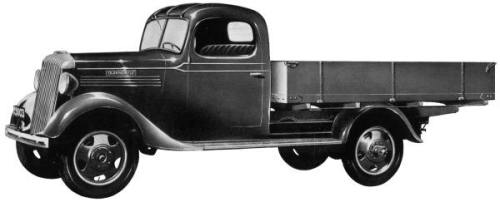 Standard wheelbase was 131 inches with 157 inch also available. Primary difference between the models being tyre size and dual rear wheels fitted to the 2½ tonne models. 1½ tonne models came as Platform & Combing or Drop Side Tray configurations, whilst 2½ tonne models came as Drop Side or Platform Tray in both wheelbases and also as a Tipper truck in the 131" wheelbase.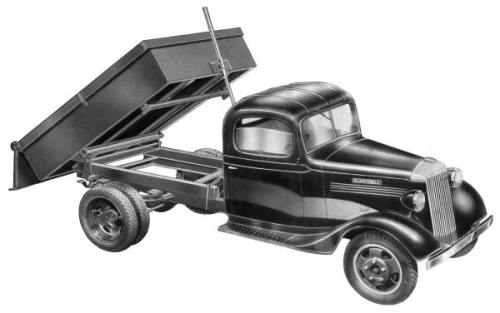 Tipper bodies came standard with a mechanical crank tipping arrangement or with an optional Hydraulic Tipper at extra cost. Truck prices started from around £300.

As previously mentioned, the 1936 car range was released on January 1st 1936, and to meet this date GM-H needed to pre-produce bodies. This process started as early as November of 1935 and given that the 1935 model range had only been on the market for less than 9 months, it gave GM-H little time to make any significant changes. Bodies used on early 1936 Sedan's are particularly easy to pick by similarities to the 1935 model. Sedan bodies built in the later part of 1935 and very early 1936 used a hinged spare wheel compartment door, where as later 1936 production resulted in a redesign that utilised a single "T" handle that allowed it to be completely removed. Similarly, early models used twin boot latches compared to later models that used a single lockable "T" handle. Other minor differences included the rear vent windows and interior lights.

1936 continued the theme of improving reliability and performance - one that Olds engineer's targeted back in 1927 when they commenced development of the F.28 series. This year improvements included the introduction of aluminium alloy pistons, a new carburettor (1st year for Carter with the WA1 model), and for the first time a true electrical voltage regulator that would eliminate overcharging of the battery. Other changes included improved cooling with introduction of vents that were incorporated into the inner front fender filler plates, the relocation of the hand brake lever from a floor mounted lever to an under dash pistol grip arrangement.

Engine capacity and performance between 1935 and '36 models (both 6 and 8 cyl) remained unchanged. Piston displacement remained at 213.3 cubic inches for the 6 cylinder and 240.3 cubic inches for the in-line 8 cylinder. Horsepower respectively for the 6 and 8 was 90 and 100hp @ 3400rpm. The truck engine, which was a slightly de-tuned variant of the 6-cylinder car engine developed 84hp.
Olds this year made some significant improvements to the poorly designed die cast "aluminium - zinc alloy" radiator grilles that were introduced on 1935 models. The 1936 design was significantly more robust and was generally more resistant to cracking problems that plagued 1935 models. Olds initially retained the grille design of twin horizontal bars on 8 cylinder models and single horizontal bars on 6 cylinder models that was adopted in 1935, but moved to fit the "8 cylinder" grille to many late production 6 cylinder models. Similarly replacement grilles were the 8 cylinder type.

Three (3) different hood ornaments were used in '36, a specific ornament was used on 8 cylinder models whilst 2 different versions were used on 6 cylinder cars. The primary difference in those used on 6 cylinder cars (other than design) was the fact that one was longer than the other, which resulted in the bonnet fouling on the hood ornament when opened too far.

Body Colours
Colour Name

Colour Code

6 cyl

Sedan

6 cyl. Sloper Coupe

8 cyl

Sedan

8 cyl. Sloper Coupe

Packard Blue

Pkrd

Yes

Yes

Fisher Grey

Fshr Gry

Yes

Bennington Blue

Bntn

Yes

Metalic Brown Medium

Met Brn Md

Yes

Bancroft Blue

Bncl

Yes

Ormonde Brown

Ormd

Yes

Storm King Grey

Stm Kg

Yes

Yes

Briar Brown

Brr Brn

Yes

Mulberry Maroon

Mlby

Yes

Moon Mist Beige

Mm Mmb

Yes
Precise production numbers for each body style are unknown but somewhere around March 1936, GM-H re-designed the rear window of the Sloper Coupe body. This resulted in the discontinuation of the single fold-out rear window and the introduction of twin fixed rear windows like post '37 Sedans & Slopers. This change took place at body number 221 on 6 cylinder models and number 35 on 8 cylinder models.
1936 L.36 All Enclosed Coupe (Sloper)
As GM-H body records are calendar year based, we cannot be sure just how many of each body style were produced, but personally collected body plate data over 20+ years so far confirms that at least 2910 x F.36 Sedan's, 254 x F.36 Sloper's, 223 x L.36 Sedan's and 22 x L.36 Slopers were built. Whilst Olds did continue the option of dual side-mounted spare wheels through until 1938 in the United States, GM-H ceased to offer the option after 1936.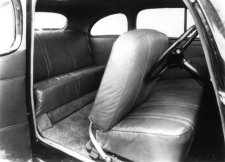 Various other options were made available to owners of new 1936 models and included - Radio and speaker £27, Bumper Badge (same as 1935 models) £0/6 , Luggage set £5 , Trumpet horns £3/10/0 , Wheel trim rings £2/14/0 whilst Dual Side-mount Spare Wheels were priced at £22/10 for 6 cylinder models and £25 for 8 cylinder models. All enclosed Coupe interior

Popularity of 1936 models remains strong today, and whilst the numbers remaining of 8 cylinder models is no longer significant, we are lucky that several fine examples of both 6 and 8 cylinder models have been restored by our members.