1941 - GMH Military Commitments for WWII slow Olds Sales
With staggered timing and entry of the World's nations into World War II, production of automobiles for nonmilitary use continued well into 1942. The scene in Australia however was quite different, and by 1940 availability of new vehicles was already starting to dry up as the Australian Government commenced engaging local automobile manufactures like GM-H to direct their manufacturing capabilities towards war effort requirements. Auto plants were transformed for the manufacture of aero engines, tanks, large attack guns, machine guns, airframe assemblies, shell & bomb cases and numerous other components.
Military production commitments resulted in Oldsmobile availability for domestic sales in Australia ceasing completely in the 1941 model year whilst G.M in America continued motor vehicle manufacture well into the 1942 model year. Here in Australia GM-H offered only one model & body style for 1941 - this being a four door sedan on the "Series 66" chassis.
As GM-H production records cover calendar year production and not "model year" production, its not possible to confirm the exact number of 1941 Oldsmobile's that GM-H built here, but with the very small number that have survived as compared to 1940 & 1946 models, its safe to assume that domestic sales would have been far less than 100.
There are additional records for Oldsmobile bodies for vehicles built specifically for Military Forces and it is understood that many of these were shipped to Australian Defence Force posts in the Pacific as well as being used by Australian & U.S. Forces posted locally in Australia.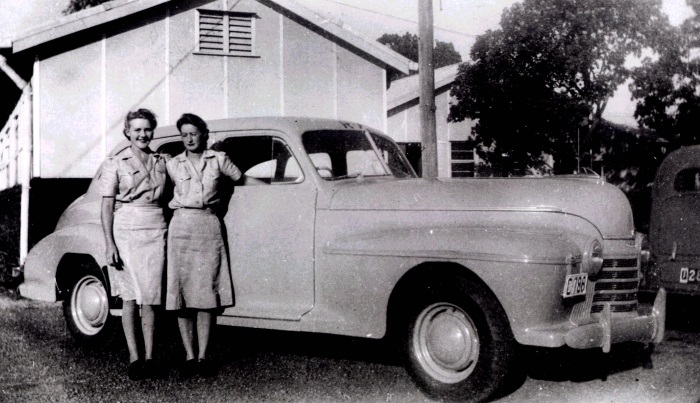 A USAF Australian assembled '41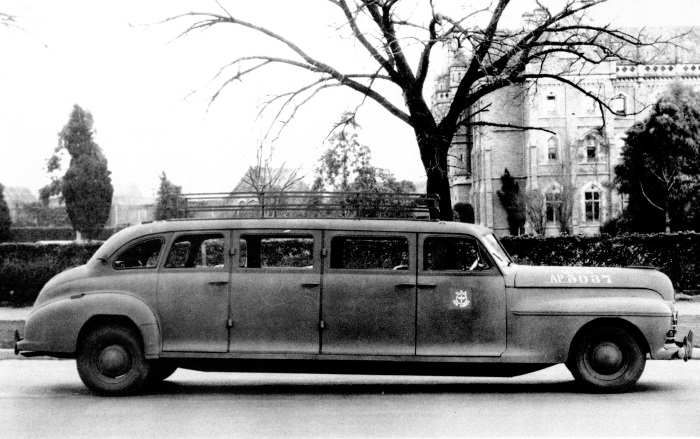 A USAF '41 stretched limo
Local Australian production remained the same as earlier years where chassis & drive train components were imported in a knocked down kit form and assembled here. Front sheet metal and the rear fenders were also included in the imported kit, leaving just the main body shell & interior trim being fully manufactured here at the GM-H plant in Woodville, South Australia. These bodies were shipped to satellite assembly plants in other capital cities for final assembly including the Fisherman's Bend plant in Melbourne and the newly completed Pagewood plant in Sydney.
Whilst military needs accounted for most Oldsmobile's built in Australia, there remained a number of critical needs applications including emergency, bus and funeral services where Oldsmobile's ended up being fitted with specialized bodies built by external body builders and not the Holden Body operations. None of these vehicles are known to have survived, however some nice photographic examples still remain in existence.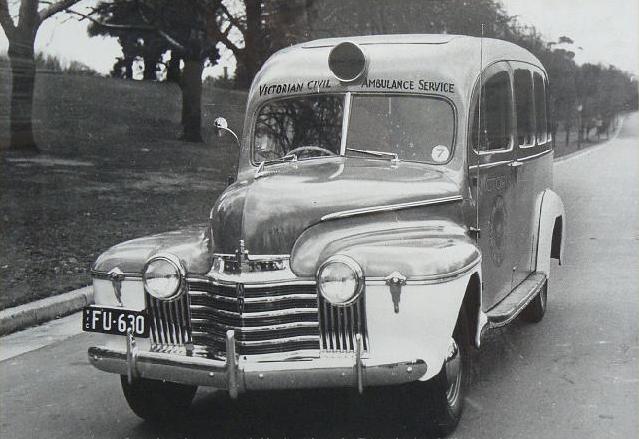 An Australian'41 Ambulance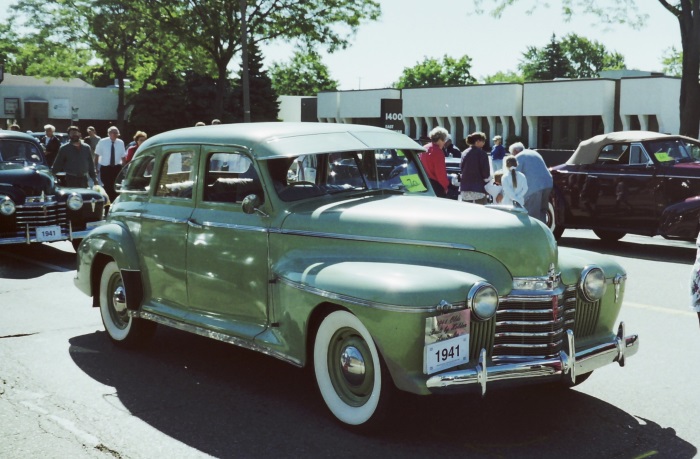 Australian GM-H built '41 at the 100th Anniversary in Lansing 1997
Today only a small handful of 1941 Oldsmobile's built by GM-H remain in existence, with probably the best and most original example having been shipped out of Perth to Canada back in the mid 1990's following the finalization of a US expat's estate. This vehicle drew significant attention when it was on display at Oldsmobile's 100th Anniversary Celebrations in Lansing back in 1997. Beyond this car there remains one unrestored example in storage in Victoria and another restored in AMF configuration in Sydney.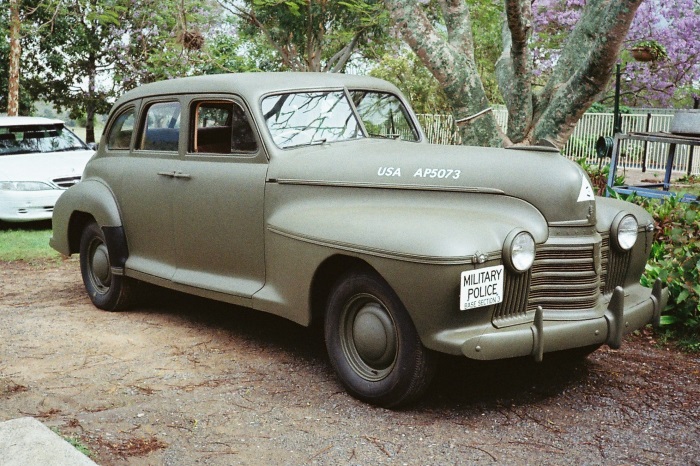 Australian built '41 in AMF configuration.
Colour combinations for 1941 Oldsmoblie - domestic sales:
| | | |
| --- | --- | --- |
| Body Colour | Wheel Colour | Interior Trim |
| Dark Blue | Dark blue with Gold Bronze Stripe | Blue Leatherette |
| Coolangatta Cream | Coolangatta Cream & Borgia Wine Light Stripe | Red Leatherette |
| Light grey | Light Grey with Larch Green Stripe | Green Leatherette |
| Storm King Grey | Storm King Grey with Dark Green Stripe | Grey Leatherette |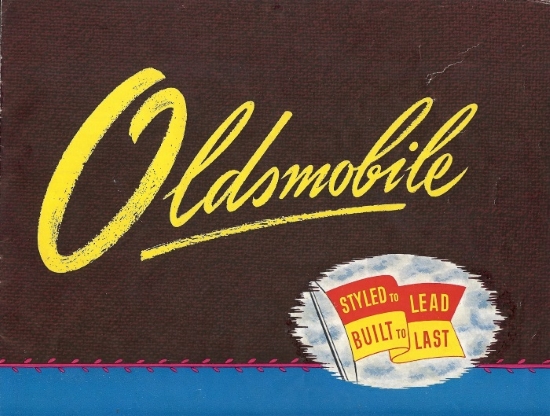 The Australian 1941 Brochure