The '49 & '50 Oldsmobile
When General Motors - Holden released "Australia's Own Car" - the HOLDEN in 1948, it was time for them to consider rationalising the range of makes they were offering to the Australian motoring public. By the end of 1950 the message was clear. The new Holden was a winner and the need for the more expensive models like the Buick and Oldsmobile simply wasn't there any longer. This was a fateful decision for Oldsmobile in Australia. As a result the last Australian built and assembled right hand drive 1950 Series "76" Oldsmobile Sedan would be completed for delivery and sale during May of 1951. From this time onward, only a handful of GM dealers imported small numbers of Oldsmobiles in Left Hand-Drive configuration, and had them converted them to RHD to meet Australian standards.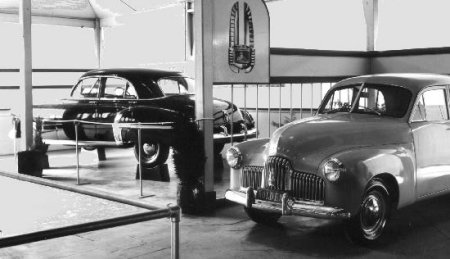 A 1949 "76" sedan alongside the new Holden in a Melbourne dealership.
Historically, the average Australian family has been drawn toward 4 door 6 cylinder sedans that comfortably accommodate the average family of 4 to 5 people. Back in 1949 and 1950 this was very much the case, and with this a major criteria, G.M-H only offered the Oldsmobile "76" Sedan. Whilst there were a couple of fully imported "Fisher" bodied models imported, by far the greater majority of '49 & '50 Oldsmobile Sedans arrived here as S.U.P. kits (Single Unit Pack). Primarily these were a kit that consisted of a bare body shell that required assembly with mechanical components supplied and then painted and fitted with local interior trim.
There were a few unique variations to the primary configuration of 4-door sedan body with 6-cylinder engine and manual transmission. These included a S.U.P. based 4 door sedan fitted from new with "Hydramatic transmission" and a "Sloper" bodied 2 door (Fisher) "Club Sedan" that are currently owned by club members.
1949 "76" models were the first of the improved aerodynamic post-war "Futuramic" style Oldsmobiles to reach Australia. Back home in the US, Olds like most other auto companies caught up with demand caused by World War 2 and competition became fierce. Oldsmobile's primary weapon against its competitors was its overhead valve high compression 303 cu. in. V8 engine named the "ROCKET".
GM Engineer - Charles Kettering, pioneered the design philosophy and layout of this engine. The design was also shared with a similar Cadillac V8 engine and became the basis of most American V8 engines for 30+ years.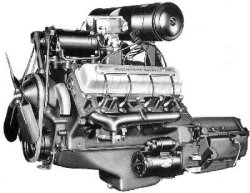 Whilst the Olds "Big Six" in-line 6 cylinder engine powered the Series "76" model range, the Rocket engine was fitted to the "88" Series (a "76" body with the Rocket engine) along with the more expensive and longer wheelbase "98" Series. The "88" with its light weight body and powerful high compression V8 virtually ruled the race tracks and certainly dominated stock car racing for almost a decade. Its dominance during 1949 made it the logical choice as the Pace Car for the 1949 "Indy 500".
Whilst Australia received the base model 4 door sedan in series "76" format (all with 2 piece front windscreens), back home in the US Olds not only offered 3 ranges with the "76", "88" and "98" but they also had a much broader range of body styles. These included a 2 door sedan, fastback 2 door, convertible, station wagon and for the first time a pillar-less 2 door coupe called the "Holiday".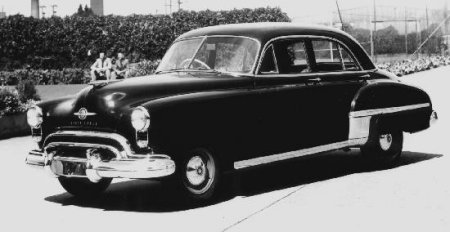 A localy produced '49 "76" outside the Holden's production facility in Melbourne
Literature of the period was extensive in the US, however GM-H obviously saw no real value in promoting a soon to be discontinued make. As a result, GM-H printed only a glove compartment Owners Manual and Specifications Bulletin for dealers. No sales catalogue was available and shop manuals were brought in from the US as they did in earlier years.
1949 & 1950 Australian colour schemes

Year

Body Colour

Color Code

1949

Black

253-2144

1949

Nankeen Cream

253-15636

1950

Mariner Blue (Pearlescent)

207-15522

1950

Norway Green

253-15625
With production records almost non-existent at GM-H for this period, exact numbers of Oldsmobiles for 1949 and ,50 are unknown. However, personal records collected from vehicles over a 20-year period show the highest body number for 1949 being 335. Interestingly, this vehicle is fitted with Hydramatic drive. The highest number on record for 1950 is 141, but given the relatively low number of body records that my family have recorded (and sighted) for this period, its quite possible that actual production numbers could be higher.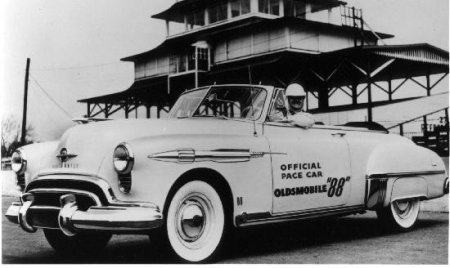 With the traditional delays resulting from shipping components and bodies, combined with GM-H's focus toward their "own" car - the Holden, availability of the Oldsmobile "76" Sedan during 1949 and 50 was staggered. 1949 Series "76" models were available for sale from September 1949 and ran through till July of 1950, whilst 1950 Series "76" models became available for sale in October 1950 and were discontinued in May 1951.

Comparative Price Table

1949 / 1950 Oldsmobile

£ 853

Holden Sedan (FX)

£ 675

Ford Custom

£ 860

Chrysler

£ 830
With their very similar appearances, 1949 and ,50 models can easily be confused. The most distinguishing feature of the 1950 model is the inclusion of North and South America in the pressing of the brass insert within the front and rear badges. Similarly the '50 model has the word "Futuramic" pressed into the stainless steel moulding on the rear doors which the '49 model does not.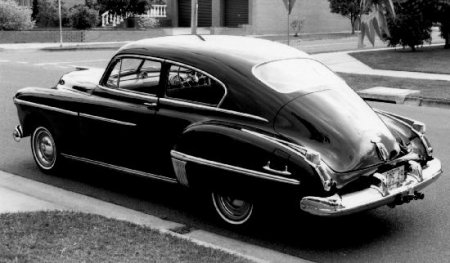 One of the very few U.S produced '49/'50s in Australia, a "76" club sedan
Luckily there have been a number of Oldsmobiles of the '49 and '50 period saved by our members and these vehicles will always retain a special part in the concluding chapter of Oldsmobile's manufacturing history in Australia.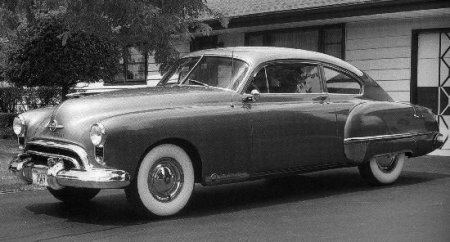 Oldsmobiles top of the line for '49 (in the U.S.) was the "98". With its 125" wheelbase, it was 5½ inches longer than the "76" & "88". Pictured above is a "98" Club Sedan
Options and Accessories for 1949 & 1950 Oldsmobiles in Australia
GMH Air Chief car radio
Front windshield visor
Exterior rear view mirror
Wheel trim rings