The Oldsmobile "ACE" - 1946 to 1948
With World War 2 over, General Motors -Holden's ceased production of guns, personnel carriers and other weaponry for the military and resumed the manufacture of car and trucks for normal "peacetime" needs of the commercial and private markets in Australia. The Oldsmobile name reappeared when the first "Series 66" Sedan rolled off the assembly line at Fishermans Bend in Melbourne on December 18th 1946.
Up to and including the 1940 model year, Oldsmobiles were offered here in 2 body styles - the Sedan and All Enclosed Coupe (Sloper), then in 1941 only a sedan was made available, as the primary focus was on war production. When relaunched in 1946 the Oldsmobile was again made available solely as a four door sedan on the "Series 66" chassis. In this configuration Holden designated their Australian version as the "ACE". Where this model name "ACE" originated is anyone's guess, but it suited GM-H and they adopted it for all 1946,47 & 48 Models that were sold here.
Some years ago in discussion with the late Sir Lawrence Hartnett - General Manager of GM-H from 1934 to early 1947 he gave an insight into Holden's body building philosophies and methods. Taking the '46-'48 Olds, Pontiac & Chevrolet as an example, GM-H would receive the detailed drawing of the Chassis & front sheetmetal of these similar models as soon as the initial models were approved for manufacture by GM's head office in Detroit. This gave GM-H sufficient time to design a body that would be largely compatible for use across the 3 makes, manufacture tooling, press the panels and produce bodies so that they were ready in time when the chassis & front sheetmetal components arrived in from the US. Obviously this was a difficult task and Holdens had to allow for the differences of each make such as location of petrol tanks & filler, body mouldings, different dash boards etc etc.
The bodies were pressed, assembled and prime coated at the Woodville plant (South Australia), then transported by train to the Fisherman's Bend Plant in Melbourne. It was at Fisherman's Bend that GM-H received the chassis components from America in what was termed "CKD" format (completely knocked down). Unlike the 30's models, which arrived here as a completely assembled chassis, the '46 to '48 models required total assembly even down to the chassis rails. Once the kit comprising all chassis, mechanical and front sheetmetal was assembled together, the body from Woodville was dropped onto the chassis and the car was painted in the nominated colour.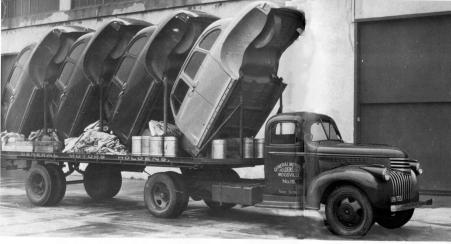 Given the delays in availability of chassis's and components from the US, GM-H produced at least 1 display car (a 1946 model) which sported a coupe body which is largely identical to the American "Fisher" bodied Club Coupe. This car which unfortunately suffers from some substantial rust problems still survives today and was rescued by one of our members and currently awaits restoration. This car is known to have toured Victoria, South Australia & Southern NSW promoting the upcoming release of the '46 model.
Delays created by demand in the US in 1946 resulted in extremely staggered availability of the Oldsmobile ACE from 1946 to as late as the latter part of 1949 -
more specifically
1946 Models were available for sale from December 20th 1946 till May 1948
1947 Models were available for sale from May 1948 until June 1948
1948 Models were available for sale from June 1948 till October 1949
As these dates indicate, the 1947 models were obviously produced in very limited numbers and is clearly reflected in the number that still survive today.
The '46,'47,'48 period is one that can be difficult for the untrained to recognise. There are few distinguishing features between '46 and '47 models which look largely identical other than the diecast chrome moulding on the front fenders that display the Oldsmobile name.
DISTINGUISHING MODEL FEATURES
Tail Lights
1946/47 - rectangular shaped & mounted between the rear fender and boot lid.
1948 - narrow rectangular shape & mounted vertically on the rear fenders (mudguards) - a round reflector is incorporated in the tail light frame.
Rear Fender Stone Guards
1946/47 - Black moulded rubber 1948 - Polished stainless steel
Hood / Bonnet Markings
Badge on '46-'47 long triangularish shape.
Badge on 1948 round with individual letters "OLDSMOBILE" across the front of the bonnet (hood).
Side Mouldings
Diecast Chrome Plated Front Fender Mouldings
1946 has OLDSMOBILE name in an oval recess in the fender moulding
1947 has OLDSMOBILE name in the moulding but not in oval recess as per '46
1948 plain chrome moulding without Oldsmobile name.
BODY COLOURS:
Year Model
Body & Wheel Colour
Colour Abbreviation

(see body tag)

1946, 1947
Clintwood Green
CNTWD
1946, 1947
Chippendale Blue
CHPDLE
1946, 1947
Parkstonian Green
PRKSTN
1946
Black
BLACK
1946
Pigskin Brown
PIGSKIN
1946
Light Grey
LT GRY
1946
Musk
MUSK
1946, 1947
London Grey
LNDN GRY
1948
Dover Grey
DOVER
1948
Mariner Blue
MRNR BL
1948
Pinehurst Green
1948
Gawler Cream
CLR CRM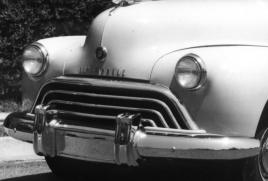 The only differences at the front between 1946,1947 and 1948 were the hood ornamentation and the heavier bumper bar of the '48.
Interior trim was largely restricted to leatherette for 1946 & 47 models but by 1948 Bedford Cloth and Broadcloth were also on offer. Each car came equipped with a tool kit, car jack & owners manual.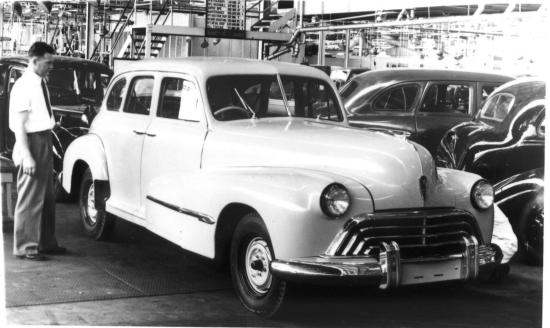 The first '46 model leaving the Fisherman's Bend production line.
As previously indicated, there are no known records on the numbers of each model year produced. However my family's research over a 30 year period shows the following as the highest body numbers that we have recorded from vehicle sightings, 1946 - No.1569, 1947 - No. 121, 1948 - No. 798. These numbers do not included the numerous Ambulances bodies that were used by most Ambulance services across the country of which none are know to have survived.
Sales literature indicates very that few options were offered in this period. However the Air Chief car radio, heater, wheel trim rings, rear window venetian and front windshield visor were available (but rarely ordered). Literature on this period was restricted to just the simple owners manual (printed separately for '46,'47 & '48). GM-H only printed sales brochures on the '46 & '48 - some parts of which are included in this article. Workshop manuals were not printed by Oldsmobile in the US for this period, as mechanically they were essentially the same as the '42 model.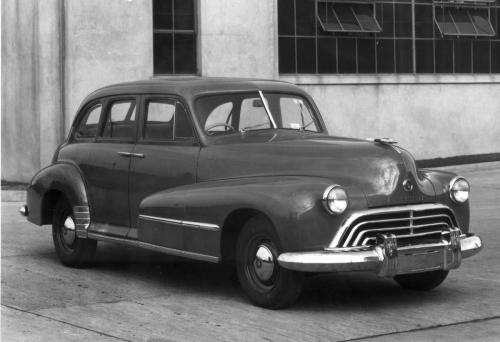 An early '48 "66" Ace, (Later cars had no grille dividers)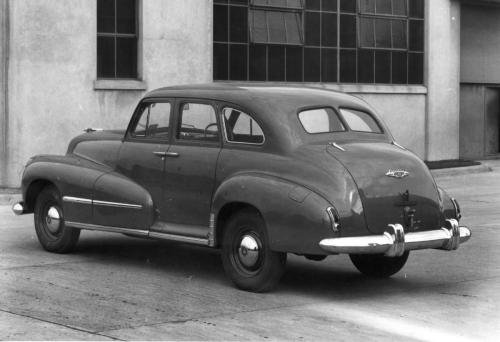 By 1948 GM-H was getting ready to release their own "Holden" car so this was to be the last year that Holden's would build a body in Australia for an Olds. The price differential between the Olds & Holden (including on road costs) was £166 with the Olds priced at £986 and the Holden at £820.
Back in the US Oldsmobile offered a much broader model range. The Series "66" was primarily the base model in the States but was also available in 8 cylinder configuration as the Series "68" or on a longer wheelbase chassis as the Series "76" (6 cylinder) or Series "78" (8 cylinder). A luxury model with the in line 8 cylinder engine was designated the "98" and in 1948 this model was the first Oldsmobile to receive what was titled "Futuramic" styling that was primarily for the 1949 model range.
Popularity of Australian "66 ACE" models with restorers has grown in recent years, and many excellent examples are owned by a number of our members.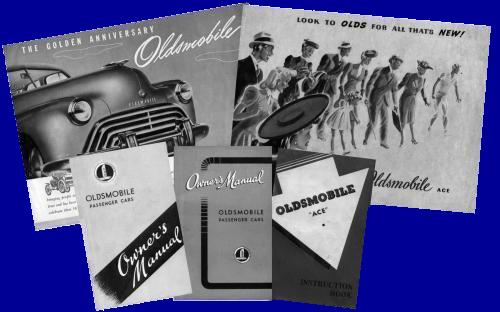 The sales literature for the '46 thru '48 Ace models
The American 1948 "98" series used the new "Futuramic" styling, not seen here until 1949.
1948 "98" Club Sedan pictured above.