The 1938 Oldsmobile
Many Olds owners would agree that The Year that's Great is 1938. For Oldsmobile in Lansing and General Motors - Holden here in Australia it was a year for refinement. In Australia just 2 years earlier, GM-H had finished commissioning their new vehicle assembly plant in Port Melbourne, Victoria, whilst also commissioning the massive "Hamilton" power press at the Woodville body plant in South Australia. This press provided GM-H with the ability to produce all steel turret top roof panels for Sedans and Sloper bodied Coupes which they introduced on 1937 models - just 2 years later than Olds in the US.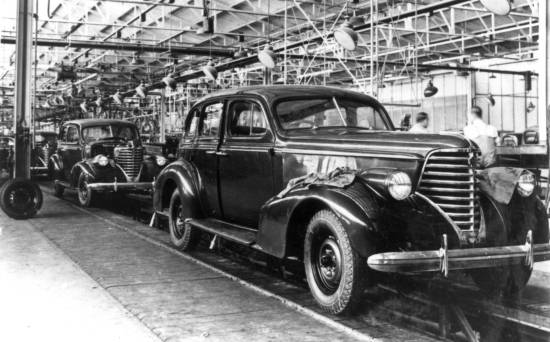 F.38 sedans on the Holden's production line at Port Melbourne Victoria.
For auto manufacturers to make new vehicle models financially viable, its generally recognised that they must maximise a new basic mechanical or body design by making enhancements over 3 to 4 model years before the design becomes out-dated. In the case of the 1938 model year, Olds largely utilised the engine and drive train that was newly released just a year earlier in 1937, and then refined the body design for 1938 models. This resulted in headlights being moved off the grille surround to incorporate them into the fenders, whilst the grille appearance for both the 6 and 8-cylinder models returned to a generally uniform design but with a few extra horizontal bars for 8-cylinder models making it look somewhat heavier.
With General Motors - Holden catering for a generally small population in Australia, it was necessary to frequently review the number of body styles, models, and makes from the worldwide GM family that they marketed in Australia. It was issues such as the great depression of 1929 - '31 that saw Olds discontinued at the end of 1929 in Australia before being reinstated in 1934 - but only in 6-cylinder models. A year later in 1935, GM-H offered both the Olds 6 cylinder and in-line 8 cylinder engines that the US motoring public had as early as 1932. However, with Olds, Buick, LaSalle and Cadillac vehicles being offered by GM-H, there were simply too many eight-cylinder models for a finite base of customers with the extra cash required to move up from a 6 to an 8-cylinder vehicle. GM-H decided the Olds "8" was to go at the end of 1938, and offered just a Sedan body in its final year.
An Olds dealership in 1938 showing the passenger car lineup alongside the Olds truck offerings of the same year.
As GM-H's only existing production records are based upon calendar years and not vehicle model years, the exact number of 1938 Oldsmobiles built here is very much a mystery. The GMH records reflect that 86 8-cylinder and 1589 6-cylinder Sedans along with 135 Sloper bodied 6-cylinder "All Enclosed Coupes" were built during the year of 1938 at the GMH body plant at Woodville SA. However, data gathered from 1938 Oldsmobiles that survive today reflect some substantial variances to the GMH records. These largely confirm that the GM-H records are based upon calendar years and not the more important vehicle model year.
They include -
· 6-cylinder Sedans up to at least body number 133 and 8-cylinder Sedans up to at least body number 19 were built during December of 1937.
· 6-cylinder Sedans were built through to at least November 1938 when surviving body no. 1757 was built (note GMH records show just 1589 cars being built in 1938).
As GM-H had not quite mastered chassis assembly, complete assembled chassis and drive trains along with front body panels that were supported by a temporary timber cowl were brought in from the US. GM-H had earlier received the design drawings of the Olds and other GM vehicles well ahead of the chassis arriving and had prepared bodies that were largely compatible with Buicks and Pontiacs. These bodies were transported to the relatively new assembly plant at Port Melbourne, VIC. where they were dropped on to the chassis and painted in the nominated colour.
Colour & Trim Combinations: "Pearlecent" indicates metalic paint
Model
Body & Fender Colour
Code
Wheel Colour

Leather Trim

6 cyl.

Sedan

Metropolitan Blue
MTRPLT
Metropolitan Blue

Fawn

Storm King Grey
STM KG

Coolangatta Cream
CLGTA

Bendigo Blue *
BNDGO BL

Bungana Beige
BNGNA
Borgia Wine Light

Fawn

Collaroy Green Pearlescent
CLRY PRLSNT
Collaroy Green

Fawn

6 cyl.

Coupe

Blue Mountain Blue *
BL MTN BL
Clipper Blue Prlsnt

Fawn

Nullabor Brown Pearlescent
NLBR PRLSNT
Borgia Wine Light

Fawn

Coolangatta Cream
CLGTA
Larch Green

Fawn

Metropolitan Blue
MTRPLT

Storm King Grey
STM KG

Tuena Blue *
TUENA

8 cyl.

Sedan

Black
BLACK
Black

Brown

Wagga Grey
WGGA GRY
Cunnamulla Red

Fawn

Maroubra Grey
MRBRA GRY

Oodnadatta Beige
ODNDTA
Note: Asterix denote colours that were discontinued prior to June 1938
Some more F.38 sedans in the final assembly area at the Port Melbourne plant.
Back home in the U.S. Olds continued to offer 6-wheel equipment for the very last time, however this very expensive option was only available on 8-cylinder vehicles. Interestingly GM-H must have experienced very little interest in 6-wheel equipped cars as they discontinued the option at the end of 1936 here in Australia. Similarly, Oldsmobile's predecessor to the fully automatic transmission - the "Automatic - Safety Transmission" which was released in 1938 for the domestic US market, was not surprisingly, never made available here in Australia. The "Automatic Safety Transmission" still required the driver to operate the clutch to take off from a standing start position, but then only required a lever movement on the steering column to shift between Hi & Lo gear ranges (Low - 1st & 2nd Hi- 1st, 3rd & 4th) .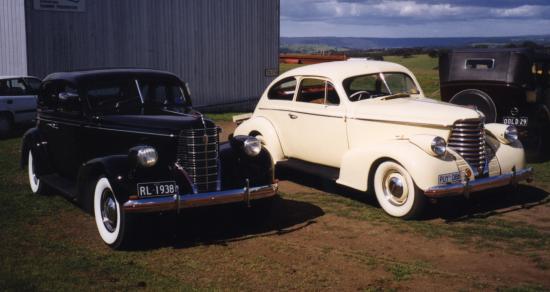 A couple of Holden bodied '38s. An L.38 sedan and F.38 All enclosed coupe.
By 1938, Australia had largely worked its way out of the "Great Depression" and the need for replacement of aging vehicles was obvious. As a result GM-H recognised the value of advertising and this resulted in a significant increase in the range of sales catalogues printed on the new Olds range. Complementing the full size colour sales catalogue was a smaller "mailing version" along with an accessory catalogue, large "Engineering Information" catalogue, price list and various other small catalogues. GM-H still continued to bring in the workshop manuals, in both full size and glove compartment size formats.
Some of the Australian sales literature for the 1938 model.
The Australian GM-H "1938 Olds - Nasco Accessories" brochure offered potential new owners a range of 18 different accessories. These included
"Nasco" Accessories for the 1938 Oldsmobile

Item

Price

Item

Price

"Air Chief" car radio

£27/6/0

Cigarette lighter

£0/15/0

Glove compartment clock

£3/19/6

Delux gearshift knob

£0/4/6

Rear view mirror with clock

£1/5/0

Locking petrol cap

£0/14/0

Wheel trim rings

£3

Dual horns

£3/17/6
Holden bodied F.38 Sedan .