Whilst Oldsmobile has a fairly well documented history in the passenger vehicle market from their commencement in 1897 to cessation in 2004, their commercial vehicle offerings across that period remain fairly mysterious and unfortunately weren't well documented at all.
Olds first manufactured commercial vehicles from as early as 1903 with the Light Delivery Wagon built on a similar chassis to the famous "Curved Dash" passenger car. In the 1919 they launched another attempt in this market when they released the Economy Truck which lasted just a few short years before production ceased in 1923 ending the Olds Truck offering in the U.S. Here in Australia documented history confirms that both the Light Delivery Wagon & the Economy Truck were sold here, however sadly no remaining examples are known to exist of either.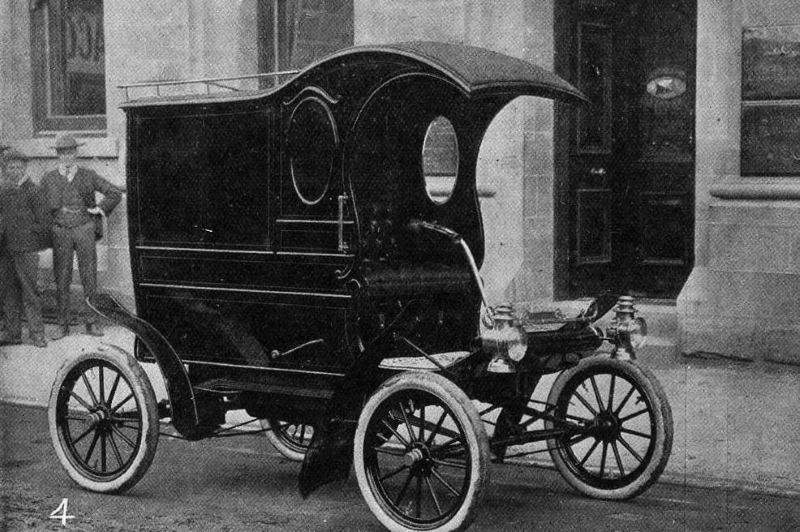 A "Light Delivery Wagon" pictured in Launceston, Tasmania in the early 1900s.
Tariffs put in place by the Australian Government in the Teen's to help stimulate the local manufacturing of motor vehicles resulted in most auto manufacturers looking for loopholes in the rules and one of these was the reduced tariff that favored supply from other member countries of the British Commonwealth. General Motors - Holden's used their sister divisions in the UK & Canada to source a number of cars & trucks which avoided these fairly significant duties. Bedford Trucks from the UK were well known prior to the Great Depression and in 1935 GM-H added the Chevrolet Maple Leaf truck from Canada to assist in growing their share of the commercial vehicle market against many wells established UK & European makes.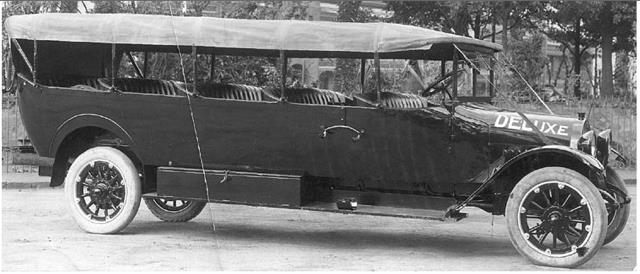 An Olds Economy truck with an extended chassis and a "char-à-banc" style body possibly built by Waring Brothers coachbuilders of Melbourne, Victoria.
General Motors however obviously had bigger growth plans and what better way could there be to win market share than to use another well established brand like Oldsmobile to swing customers across. By 1936 tariffs had reduced in Australia, world markets were recovering well from the depression, so the timing was right for GM Export in New York to co-ordinate the production of Oldsmobile Trucks for 1936.
So as not to cannibalize the existing domestic US sales of the GMC Truck & Chevrolet Maple Leaf Trucks in Canada the Oldsmobile Truck's were restricted to export outside North America only. Oldsmobile trucks were built at the GMC plant in Pontiac, Michigan from 1935 (for the 1936 model year introduction) through to 1940 when commitments for WW2 took priority. They were produced as complete fully assembled units or CKD Kits (completely knocked down in boxes requiring total assembly on arrival at the destination country).
The Oldsmobile Truck was effectively a clone of the GMC Truck with a different grille, badging and use of an Oldsmobile engine. There are some conflicting reports out there on the web indicating that the Olds Truck used a Chevrolet engine, but this is not the case. In fact just the opposite, GMC actually used the Olds 213 ci 6 cylinder in 1936 on the GMC T-14. A comparison of part numbers between Olds cars & trucks also reflects that the main components such as crankshaft, exhaust manifold bearing caps etc. are an exact match. There are differences in cylinder head, & engine block numbers but that may be a simple difference like a mounting hole positioned in a different location.
In the introductory year of 1936 Olds trucks were offered here in 1½ & 2½ ton models with either 131 or 157 inch wheelbase. The options on bodies were 1/ Cab with flat platform tray (2" combing edge), 2/ Cab and platform with drop sides (hinged), 3/ Cab with tipper or 4/ Chassis with either cowl only or cab - for special purpose bodies such as bus, van etc.
The styling used on the 1936 Olds Truck ran for just one year before being given a facelift for the 1937 model. The new 1937 styling then ran from through to the final Oldsmobile Truck in 1940.
How Many People Visit